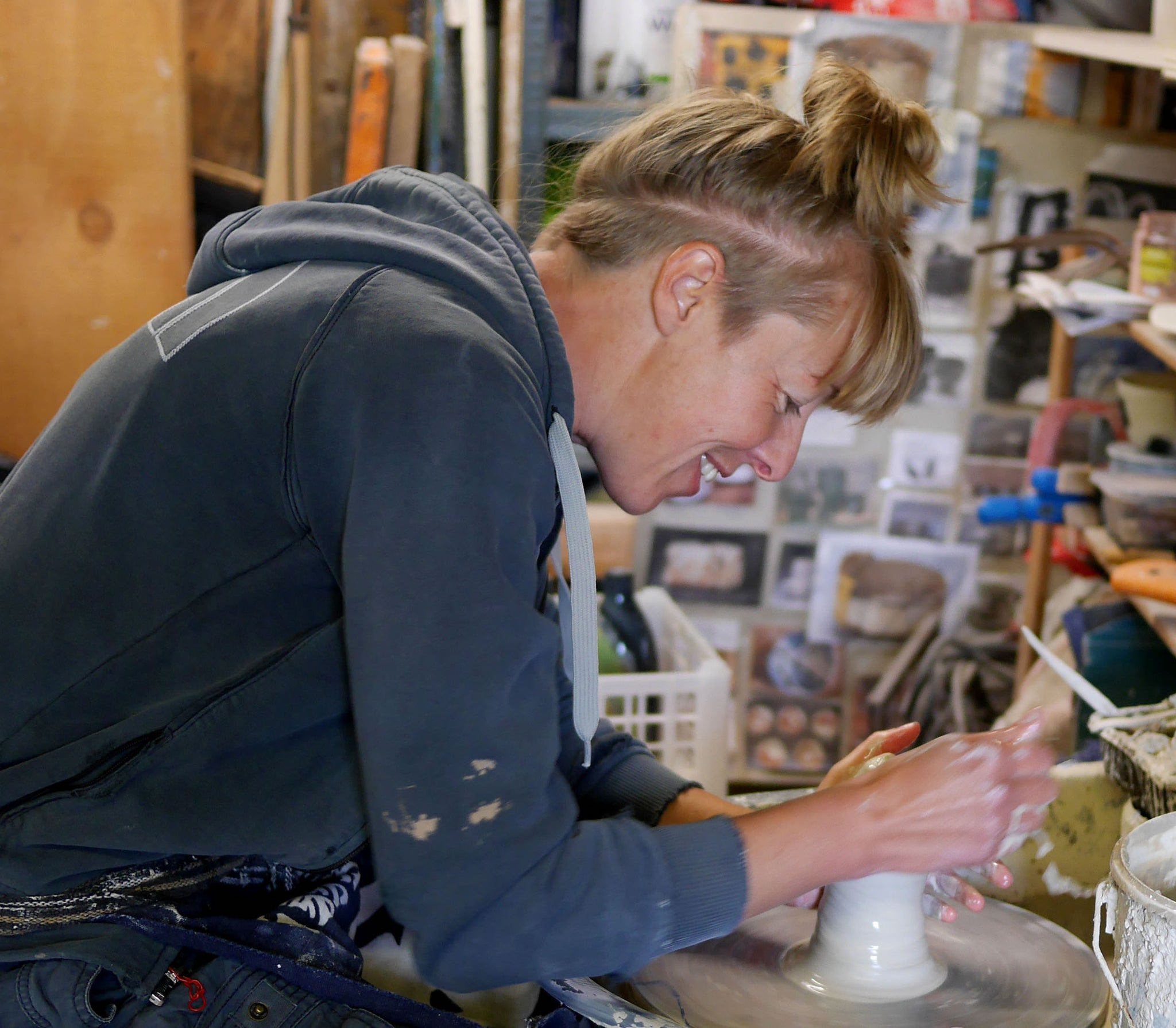 Creatively Occupied - Michelle Freemantle
"Micelle creates functional ceramics that are tactile and visually pleasing, using a mix of hand built, press mold and thrown techniques. Lines and text, often snippets of thoughts or poetry written during her travels, are inscribed into the surfaces and slips applied. She likes the way you can get more pleasure from eating and drinking from handmade vessels and trys to meld function and art into each piece.
After graduating from Derby University with a BA in Applied Arts, Michelle was selected to take part in IWCAT 2000, an international workshop in Tokoname, Japan and subsequently invited back two years later, to make work for an international group exhibition. Japan had a huge effect on her and her approach to ceramics. Through staying with a host family she saw at meal times, each dish complimenting the food it contained. Conscious thought had gone into the placing of foods and the choice of ceramics used. She liked the idea that she wasn't simply eating to sustain her body, she was feeding her eyes and her mind at the same time.
Before setting up her own studio in Wetwang, East Yorkshire, Michelle has worked as an assistant to Rob Bibby at Woodnewton Pottery as well as with salt glazer Christine Pedley in La Borne, France. It was Christine who taught her to throw. Michelle would have to weigh out a pile of balls to a certain grammage and sit and throw cylinders one after another. Christine would come along with a wire and cut them in half exposing the thickness of the walls and evenness of the throw or not as the case was then!
After first experiencing Finland whilst studying, over the past 20 years Michelle has been back to the country on many occasions after falling in love with its snowy landscapes. It was bitterly cold the first time she was there with temperatures down to -40degrees, icicles hung on her lashes as she walked over frozen lakes. It really was magical. These experiences lay seeded in her head for a long time before it arrived in the form of her 'Talvi' series which translates as winter in Finnish. The silver birches, lakes, patternation on the land, made from the likes of roads, fence and field boundaries intersecting through blankets of white provided inspiration for this range. Even down to the shadows created on the snow from blue blue skies above.
'Landlines' is Michelle's latest range.
The East Yorkshire Wolds is surrounded by agriculture in all directions. Throughout the seasons, it is a constant visual source, of changing fi­eld colours and markings; yellow rape seed being predominant in late spring, then there's potatoes, wheat, barley. Lots of undulation goes on with the valleys and plenty of chalk."
Not every item we have in our gallery in Haworth is listed as a product to buy online. If you've seen something that you'd like to enquire about, please do get in touch. We would be happy to provide more information and/or arrange manual payment and delivery. We can also reserve items for you to collect at your convenience.